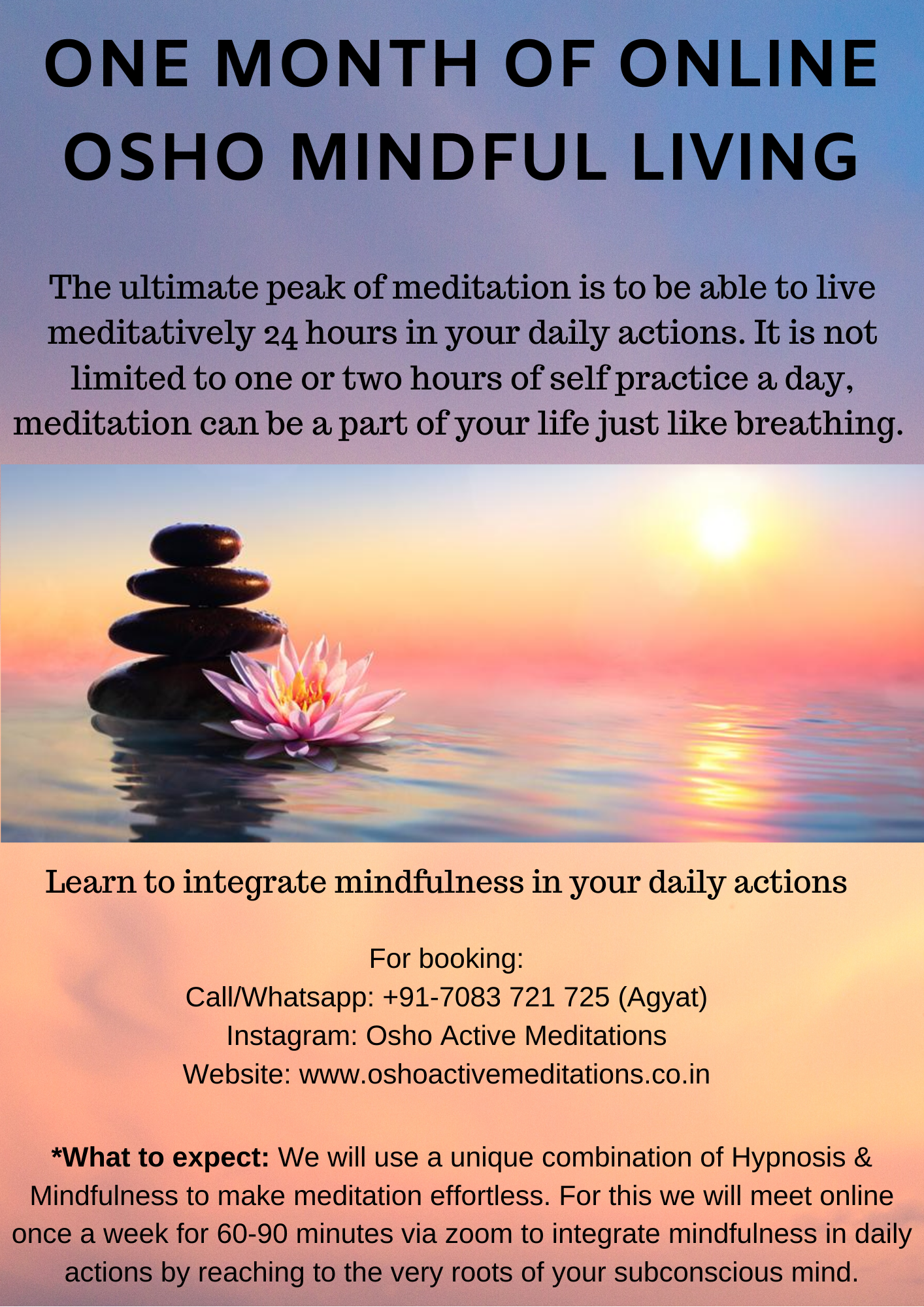 ---
One Month of Online Osho Mindful Living

"This program has a very powerful combination of Hypnosis and Mindfulness to make meditation throughout your daily actions effortless.

"We go the the very roots (your subconscious mind) to bring about the change in your daily actions"

There are more than 3000 methods on mindfulness devised by Osho to meet the need of modern men, that lives a busy, hectic and stressful life.

Important  suggestion:

It is suggested to dedicate some time everyday to see the full benefits of the mindfulness methods.

Plus

We also highly recommend to simultaneously participate in our "One Month of Online Osho Meditations" to accelerate your learning on the path of Meditation.

More info: https://www.oshoactivemeditations.co.in/one-month-of-online-osho-meditations/

My message to you:

"Do not believe my words and statements. Test them by yourself"
---
Practicalities:

When: Every Saturday @1400-1530 hrs IST

Duration: 75-90 minutes session once a week

Platform: Zoom

Financial Contribution:

Contribution: Per person/Per month

Currency

Amount

INR

17000/-

EUROS

194 (Approx.)

USD

229 (Approx.)

GBP

175 (Approx.)


*The above contribution is for a duration of 30 days.

---

Additional Support: 
Regular support provided as and when needed through any means of media (Email, Whatsapp, text, voice call etc.)

About the facilitator:
About Agyat
---
What is Meditation or Mindfulness?

In the above video I am giving three definitions of meditation.

Your ability to relax your body and mind at will
Your ability to live in the present moment
Your ability to be aware

---

What Meditation or Mindfulness is not?

In the above video I am giving three definitions of what meditation is not.

Focus or concentration is not meditation
Stopping your mind from think is not meditation
Meditation is also not about having only positive thoughts

Some benefits of regular practice of Mindfulness:

Increases Relaxation of Body
Releases Stress/Anxiety
Promotes Better Sleep
Brings Hormonal Balance
Increases Awareness
Increases Creativity
---
Why this?

Three reasons:

First reason – To train yourself for Mindful Living:

Human beings live through the habit because it is easy. To live with awareness is challenging in the beginning as it is true for learning anything new in life. Once you learn to live with awareness a great transformation is waiting for you.

"With the combination of hypnosis it can be achieved effortlessly"

We believe that one can live mindfully throughout the day. It is not limited to one or two hours of self-practice a day limited to a certain place and at a certain time.

Mindfulness can be part of your work, relationships, exercise, eating, taking shower or any other regular daily action.

For this the most important step is to get a clear understanding about what mindfulness is and then comes the application.

Our effort is to help you integrate mindfulness into your everyday living and to provide support in bringing about a qualitative change in life.

Second Reason: Support system by someone who is already doing it:

Human learn very quickly by looking at others or by listening to other people's experiences in the area of our inspiration. In this regard a guide or a trainer who is already practicing mindful living can be of tremendous help.

Third Reason: Creating a platform for like minded people to come together:

This program will also provide you an opportunity to connect with like minded people around the world and learn from their shares, questions, experience and practice about meditation.
---
Process:

What to expect: 

We will use a unique combination of Hypnosis & Mindfulness to make meditation effortless. For this we will meet online once a week for 60-90 minutes via zoom to integrate mindfulness in daily actions by reaching to the very roots of your subconscious mind.

In the online call, I will address the questions collected throughout the week by participants, practice mindfulness methods and end with a dropping seeds of positive suggestions on mindful living by using hypnosis, so that the effect goes very deep all the way to your subconscious mind.
The positive suggestions will be collected from each participants and the statements will be tailored made.
---
Levels

There are seven levels to this online program. Below is more information:

Level 1: 30 days & 4 online weekly calls participation

—————————————————————

Level 2: Regular participation in the online weekly calls
                                    Plus
Few commitments toward your daily meditation practice

—————————————————————

Level 3: Regular participation in the online weekly calls
                                   Plus
Three months participation in One Month of Online Osho Meditations.

—————————————————————

Level 4: Regular participation in the online weekly calls
                                  Plus
Regular meditation practice & completion of a group program

—————————————————————

Level 5: Regular participation in the online weekly calls
                                  Plus
Regular meditation practice & completion of a group program

—————————————————————

Level 6: Regular participation in the online weekly calls
                                    Plus
Regular meditation practice & completion of a group program


—————————————————————

Level 7: Regular participation in the online weekly calls
                                    Plus
Regular meditation practice & completion of a group program
---
Takeaways from this session:

Learn mindfulness effortlessly
Be your own master
Get clarity and insight into confusing situations
Step by step guidance & support
Tapping into your inner joy & happiness
Learn from sharing & get support
Shorten your learning curve by aligning yourself to fundamental principles of mindful living
---
Contact us on:
Mobile & Whatsapp: (+91) 7083-721-725
Email: agyat@oshoactivemeditations.co.in
---
Follow us on Facebook & Instagram: OSHO Active Meditations