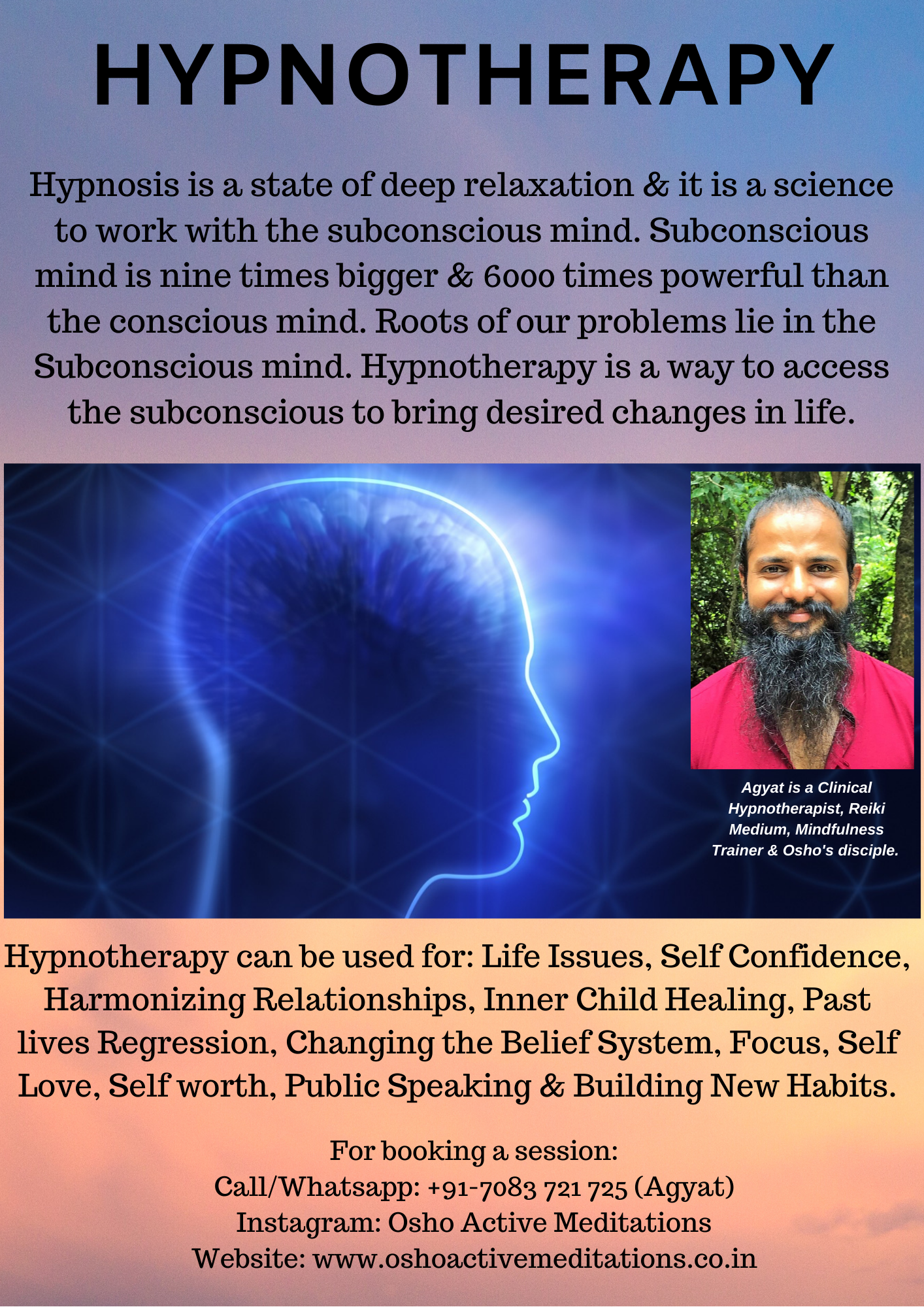 ---
4 day Self Love & Harmonizing Relationships with Hypnotherapy [Online Retreat]

Do you know that our subconscious mind is 6000 times more powerful & nine times bigger than the conscious mind?

About:

Hypnosis is a state of deep relaxation just like deep sleep & hypnotherapy is a science to work with the subconscious mind. Roots of our challenges lie in our subconscious mind.

Hypnotherapy can be used for below:

Inner Child Healing
Changing the Belief System
Past Lives Regression
Improving Focus
Increasing Self-Confidence
Self-Love & Self Worth
Dream Realization & more
---
4 day Self Love & Harmonizing Relationships with Hypnotherapy [Online Retreat]

Hypnotherpay

Hypnotherapy sessions can be oriented in two ways: future-oriented or past-oriented approach.

Future-Oriented Approach:

It is related to the requirement for any area of improvement like self-confidence, public speaking, self-love, physical health, focus or dream realization. Once the area is chosen, one has to write down short, positive, simple affirmation on one area at a time & then the therapist will make a recording using those sentences.

That recording has to be listened to for 90-120 days so that the new neuropathways in the brain can be built up to bring desired results.

*For future-oriented approach one session is enough on one area.

Past Oriented Approach:

In this, we look back into the life of the person & go back in time into the childhood or any traumatic event that one needs freedom from.

This approach is used for inner child healing, changing the belief system, past lives regression, fears, cord-cutting with a specific person or a belief system, closing unfinished chapters of relationships & letting go of the past.

Various tools of hypnotherapy are used in this approach for integration to bring inner peace & harmony in life.

For the past-oriented approach, the number of sessions required is usually decided after a pre-interview with our therapist.

Self-Hypnosis

Self-Hypnosis is a science to work with the subconscious mind. It will be a two hours programme to learn about the power of your subconscious mind.

We will explore different aspects of the mind and its functioning. We will also understand multiple layers of the mind.

This programme will help you understand about conditioning, self-limiting belief systems & to create positive affirmations.

Process:

We will learn:

The way conscious & subconscious mind functions.
How the programming of different minds gets formed?
What is a fight & flight mechanism?
How to create positive affirmations for faster results?
How to use the subconscious mind to your advantage?
Understand about conditioning.

Open Session

An open session is designed to help you solve your current life issues that you may be facing or to find out the core issue/challenge of your life that you may need support to solve it.

Human beings are creatures of habit, without awareness man is just a machine repeating the same pattern throughout their whole life. An open session may help you to identify that pattern & will give you the ability to break it with awareness.

You can free yourself of the past & create your future. You need only a little bit of courage, awareness & initiative.

Process:

The setting of the open session is based on talking openly on your current areas of your challenges. Our therapist will use their intuitive reading abilities, energy work experience, meditation, hypnosis, use of fundamental principles of existence, body, mind & their years of experience to support you back to peace & harmony.

*Discussion of the session will remain absolutely confidential.
---
4 day Self Love & Harmonizing Relationships with Hypnotherapy [Online Retreat]

Duration:

1 x 120 minutes Open session (Interview)
2 x 90 minutes Hypnotherapy session
1 x 90 minutes Self hypnosis session or Hypnotherapy session

Contribution:

Shared on request

What's included in the package:

Personal recording for dropping the positive suggestions into your own subconscious mind every day (For future oriented approach)
Written text on the layers of the mind in self hypnosis
Pre and post workshop support from our team
Additional support provided via email, if needed
Recording of the sessions
Intuitive reading
Step by step guidance and clarification
Tailor made recording on Self Love
---
4 day Self Love & Harmonizing Relationships with Hypnotherapy [Online Retreat]

Takeaways from this retreat:

1. Tailor made recording on Self Love

2. Harmonizing our relationship with family members or with ex-partners

3. To let go off the past and heal yourself of the old emotional wounds

4. Letting go of the past & claiming your right to live in the present moment.

5. Removing the accumulated negative energetic charges of others from your body-mind systems

6. You will get a personal recording for dropping the positive suggestions into your own subconscious mind every day.

7. Ability to create positive affirmations.

8. Usage of the subconscious mind for your advantage.

9. Understand your own conditioning & break those patterns.

10. You can gain a better understanding of the situations in your life by sharing with our experienced body & mind therapist.

11. Get a 360-degree view of your challenge.

12. Explore tools to overcome your challenges/issues.

13. Receive various skills that can be practiced in daily life with a plan to work forward.
---
Contact us on:
Mobile & Whatsapp: (+91) 7083-721-725
Email: agyat@oshoactivemeditations.co.in
---
Follow us on Facebook & Instagram: OSHO Active Meditations
---