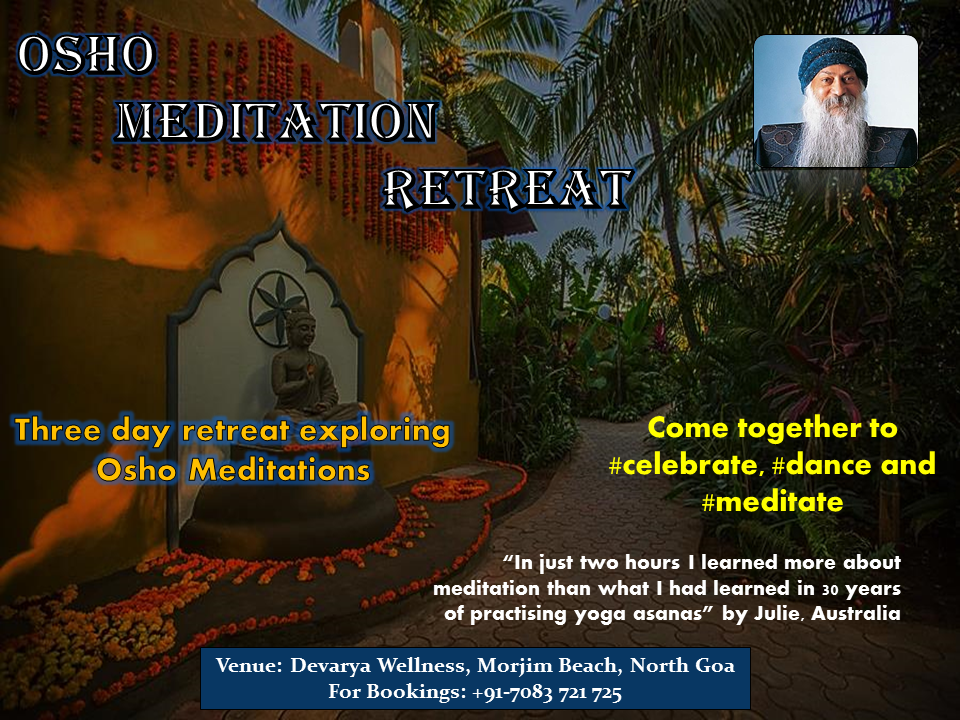 "Osho Meditation Retreat in Goa, India – Three Days"

Join us in Goa, India for seven day Osho Mindfulness techniques and meditation Retreat. This retreat will include playful games and interactive group activities to help us better understand meditation and ultimately bring us back to awareness. There will be dancing, laughter, celebration and meditation. The course is of tremendous help to build our mindfulness and awareness in a playful way to transition into our daily life going forward.
All three days of the retreat will be spent in absolute silence and will include a digital detox that all students are required to undertake.
It will be an intense process to learn meditation in a short period of time
By the end of the retreat you will…
Learn Mindfulness and how to use it in your daily life at work, home and marketplace
Learn how small acts of everyday living can be transformed into meditative moments
Learn various methods of simple Mindfulness and Meditation techniques
Who is this retreat suitable for?
If you want to learn meditation in an easy way then this retreat is for you. This retreat is open for all the levels of meditators (Beginners, Intermediates and advanced), even if you have never meditated before it will be an opportunity to learn meditation quickly. We will learn the fundamentals of spirituality and go deeper into it with Osho meditations.
This retreat will give you an opportunity to come back to yourself. We will practise silence and digital detox that will rejuvenate you and will leave you stress free. Our effort will be to detox you from the craziness of the mind.
This retreat is designed for people looking to unburden themselves of the past and learn how to live life every day moment to moment with laughter and celebration.
Daily Schedule:
6am – 7am                         Session 1
7.30am – 8.45am              Session 2
9.30am – 10.30am              Breakfast
11am – 1pm                        Session 3
1pm – 2pm                          Lunch
4pm – 5pm                          Session 4
5pm – 5.30pm                     Tea Break
6.30pm – 8pm                     Session 5
8pm – 9pm                          Dinner
About the Teacher:
Agyat's life was transformed in 2013 when he discovered the teachings of Osho. After leading a busy chaotic life and a stressful career, Agyat moved into Osho's commune in Pune where he practiced the daily art of meditation for two years, where he practiced meditation daily. His personal transformation during this time was so profound that he chose to dedicate his life to the teachings and practices of Osho, becoming a disciple and sharing the path with others. Agyat transitioned into the Himalayas to another Osho commune. Here he worked with, practiced along side and learned from the best Osho therapists, teachers and masters from around the world. Agyat has personally explored various paths of meditations including Sufism, Tantra, Zen and Osho Meditative Therapies. Inspired by these experiences, he then moved on to study Clinical Hypnotherapy and Reiki. Agyat is a source of inspiration and guidance to his clients in difficult times. He is able to help people to see complicated situations clearly and logically so that decision making becomes easier. Through using some of the meditation techniques he helps his clients move to the heart space from the head space, immediately to be more at peace and contented.
Agyat's journey led him to Goa, where for many years he has been offering group workshops, meditation camps and retreats. Agyat also offers individual meditation sessions, private consultations and therapies and as an interactive online service.
'Meditation and sharing my knowledge is my passion and it brings immense amounts of happiness, joy and contentment to me. I am living my dream everyday by doing what I love. There are no social cause's behind my work. I am not trying to change a persons life, however if they choose to meditate and continue to meditate a great transformation is possible. Doors of ecstasy and wonders will open and life will become a great celebration' – Agyat  
Osho
Osho is an enlightened master who is best known for his Active Meditations that use the body as a tool to explore mindfulness. He has created over 3000 methods of meditation designed to meet the needs of a vast variety of  people. The results are immediate and powerful. Osho has addressed various paths of meditation including Yoga, Sufism, Tantra, Zen, Taoism and has over 650 books written in his name.
Pricing Per Person:
Chakra Standard Sharing –
Chakra Standard Single-
Junior Cottage Sharing –
Junior Cottage Single –
Included in Package:
Accommodation – pricing is per person per night
Five sessions of meditation everyday
Audio files of the Osho Meditations practiced during the retreat will be shared
Three buffet meals, brunch, lunch and dinner every day
Filtered drinking water, hot drinks including lemon ginger and chai (full day)
A variety of evening activities throughout your stay including Indian music, chanting and meditation
Full use of resort amenities in spare time including swimming pools, yoga shalas, beach loungers and spa amenities (treatments and therapies at additional cost) 
Not Included:Travel, transport and transfer costsVisa Fees – please make sure you obtain the correct visa to enter India

Spending Money

Excursions
Available Dates:
Every week from Thursday evening until Sunday afternoon
Venue:
Devarya Wellness Center, Morjim Beach, North Goa, India
http://www.devaryawellness.com/devarya-wellness-location.html
For Enquires:
+91-7083 721 725 (What's App or Call)
Website:
www.oshoactivemeditations.co.in
Follow us on Instagram:
@oshoactivemeditations
https://www.instagram.com/oshoactivemeditations/
Testimonials
'The Osho Meditation Retreat was life-changing and life-reaffirming. I have been practicing mindfulness for a few years, and this retreat really opened my mind to a number of simple ways to incorporate meditation into daily life. Through laughing, dancing and drawing I was able to break down some internal barriers and beliefs, and reconnect with my higher self. The experience was equal parts fun and profound. Agyat is one of those very few people you meet who have a lasting impact on your whole life. Thanks Agyat' – Michelle, Australia
'Agyat is a modern guide to the world of meditation and hypnotherapy. His techniques are tailored to help you with your inner work in a way that is accessible and absolutely enjoyable. Agyat is a kind, caring spirit who is walking his path and can help you navigate your own. With his hypnosis therapy, Agyat helped me get at some core issues and overcome some deep set obstacles. He also gave me tools to continue the healing on my own. His workshop was a bonding communal experience that gave us inroads to continue our inner journeys on our own and with our communities' – Joel Marshall, Actor / Producer. USA