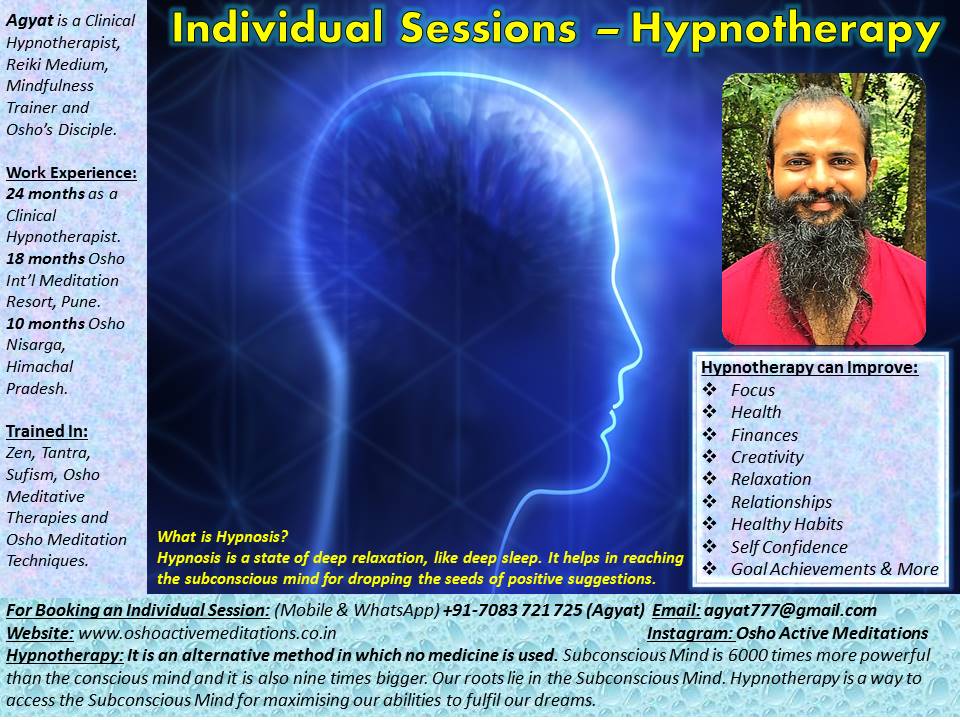 ---
We would use the tools & techniques of " Clinical Hypnotherapy" in this Self Healing process.

Hypnotherapy is a science of our subconscious mind. It is an alternative healing modality in which no medicine is used & an individual is healed not only through just symptoms but also keeping the mental & social factors in perspective.

It is believed that 95% of the physical & emotional problems come from our thoughts & the root is our subconscious mind. Our subconscious mind is 6000 times more powerful then our conscious mind. In Hypnotherapy we work with the subconscious mind for better life & make the changes required for joyful living.

Below areas are covered in these Individual Sessions by Agyat:

Focus
Health
Finances
Creativity
Relaxation
Relationships
Healthy Habits
Self Confidence
Goal Achievements
Past Life Regression
---
If thoughts can be altered, it will have a direct impact on the well being of our body. Below is the vicious cycle:

Thoughts
Emotions
Energy
Physical Body

If you have negative thoughts, it will be followed by negative emotions, eventually it will drain your energy & your body will be more vulnerable to many negative things. This pattern also goes the other way around starting from the body to the thoughts.

We also use OSHO's Meditation techniques & his insights to quicken the process for faster results, wherever it is needed.
---
All the individual sessions are taken by Agyat after a personal interview with an individual, to understand the interest & willingness to participate in this Self Healing process.

We believe that nothing can be done unless you are ready for the change & willing to take the responsibility to bring the shift in your life.

To know more about Agyat you can check our FAQ section.

To check the complete list of the areas of our work click on the link given below:

List of Areas of our work – Individual Sessions- Hypnotherapy for Self Healing by Agyat

 
---
"Success & Happiness is a conscious choice. Our life is accumulation of the choices that we are making continuously everyday"
---
Charges for Individual Sessions:
Durations              –  Charges
0-90 minutes              –  INR 3,500/-
90 minutes & above  –  INR 500/- for each  additional 30 minutes

Venue:
All our individual sessions are held either at our home address mentioned on the website or clients place, which ever is convenient for both the parties at the time of booking the session.

*In case of session to be done at clients place, the cost of the taxi will be borne by the client.
---
Booking a Session:
Advance payment of INR 3,500/-  is to be made & book your slot over the phone (Date, Time & Venue).

Below is the link to make the payment by using your debit card, credit card or net banking:

https://www.payumoney.com/webfronts/#/index/individualsessionshypnotherapyforselfhealingbyagyat

*If the session goes longer than 90 minutes, INR 500 for each additional minutes will be billed & shall be settled after the completion of the session in cash only.
---
Refund Policy:

You can change your mind & we will provide you the full refund, if you will let us know at least 24 hours before the scheduled appointment of the session
In case of "No Show" we will deduct 50% of the fee deposited for the session & will refund you the remaining 50%
If you would like to change the dates & timings for the sessions, you need to inform us at least 24 hours before the scheduled appointment
---
"We will be using various techniques/tools of Clinical Hypnotherapy in this Healing Process"
---
About the Facilitator:
FAQ

---
Contact us on:
Mobile & Whatsapp: (+91) 7083-721-725
Email: agyat@oshoactivemeditations.co.in
---
 Follow us on Facebook & Instagram: OSHO Active Meditations